Bear Cove Cabins Vacation Rentals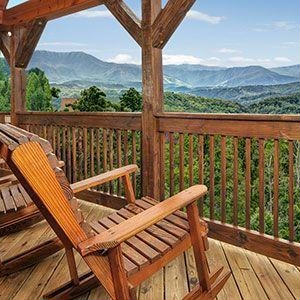 Browse beautiful Smoky Mountain vacation rentals from Bear Cove Cabins. Our collection of rental properties range from cozy one-bedroom cabins and studios, to luxury cabin rentals for large groups.
Bear Cove Cabins has a wide variety of stunning cabins, homes and lodges are available for vacation rental throughout Pigeon Forge, Sevierville and Williamsburg, TN. Our Pigeon Forge vacation rentals and Dollywood cabin rentals are the perfect location for any type of travel!
Find the perfect luxury Smoky Mountain retreat for any size group, family reunion, romantic getaway or remote work location. Relax and enjoy mountain life by exploring the local attractions and outdoor activities. Our beautiful Pigeon Forge cabin rentals are close to local restaurants and attractions. Planning a visit to Dollywood? Our stunning Dollywood cabin rentals are close to Dollywood Parks & Resorts, perfect for your next fun filled vacation to the Smoky Mountains.
Browse and book your next vacation to the Smoky Mountains today with a rental from Bear Cove Cabins!
---
Experience the beauty of the Great Smoky Mountains at Cuddle Up, where you'll have a private hot tub and firepit, a 51-inch TV, and serene surroundings to ensure you'll never want to stay anywhere else. This cabin is a one-room studio, all on one level, with a main living area that features a big-screen TV, satellite cable, a DVD player, a cozy el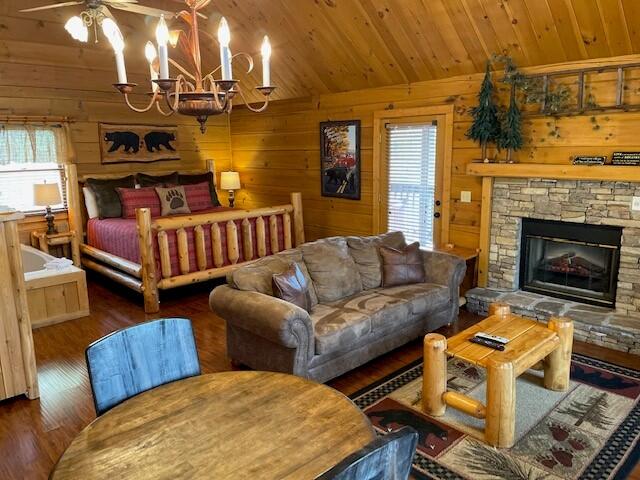 God's Country is a luxurious two-bedroom cabin in the Walker Trail area. This beautiful home is a light and spacious retreat perfect for a relaxing or adventurous Smoky Mountain getaway. God's Country sleeps seven guests with two king beds, twin bunk bed, and a futon and two bathrooms. The cabin's decks provide a breathtaking view of the Smoky Moun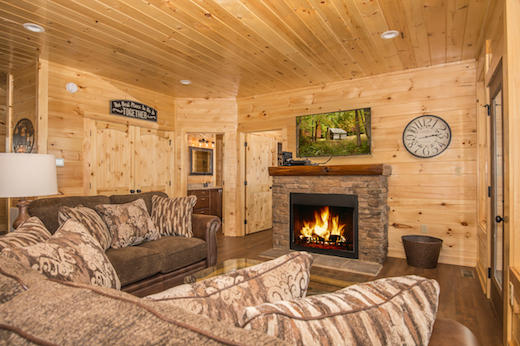 $1,603 - $3,668
/ per week
Mountain Spirits is roomy three-bedroom cabin located in Mountain View Court. This beautiful log home embodies the spirit of the Smoky Mountains with a rustic feel and luxurious amenities. Mountain Spirit sleeps 12 guests with two king beds, two queen beds, two queen sleeper sofas and three bathrooms. Guests can take in the spectacular mountain vie
$2,093 - $3,808
/ per week
Skyline Retreat is a peaceful two-bedroom cabin in the Walker Trail Area. This inviting vacation home is the perfect retreat for a serene Smoky Mountain getaway. Skyline Retreat sleeps twelve guests with one king bed, two queen beds, twin bunk bed, queen sleeper sofa, futon and three bathrooms. The picture windows are the focal point of the living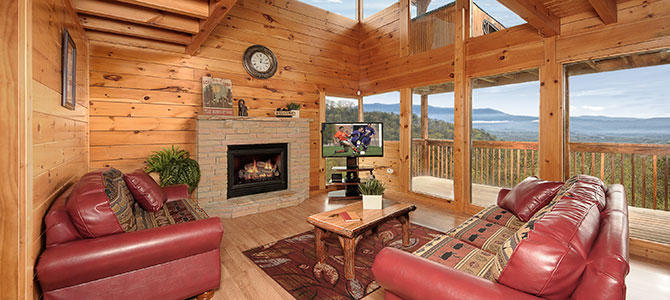 $1,533 - $3,598
/ per week
Heavenly Hideaway is a stunning four-bedroom cabin located in Starr Crest Resort. This spacious cabin is perfect for large families or close friend groups. Heavenly Hideaway sleeps 15 guests with three king beds, two queen bunk beds, one futon and four bathrooms and one half bath. Heavenly Hideaway provides guests with heavenly views from multiple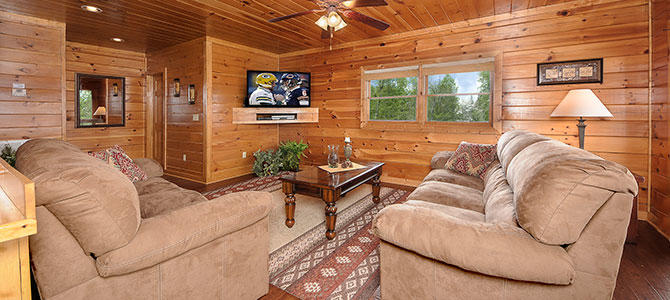 $2,723 - $5,068
/ per week
Bear Run Falls 3105 is a warm and inviting two-bedroom condo in Bear Run Falls. This charming condo sleeps four guests with one king bed, one queen bed and two bathrooms. A full kitchen and dining area allows guests to conveniently prepare and enjoy meals together while the living room is the perfect space to gather around the fireplace to fellows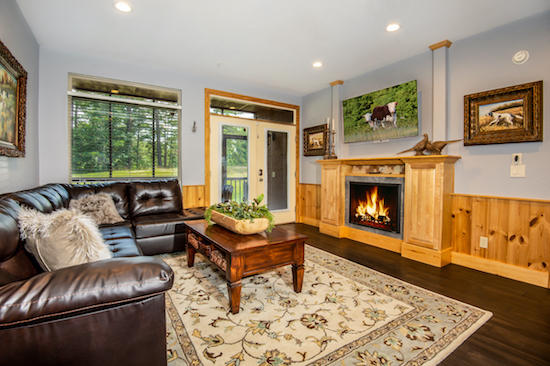 Bear Run Falls Condo 3105
Beverly's Bearadise is a spacious four-bedroom cabin nestled in Starr Crest Resort. The beautiful cabin comfortably sleeps 10 guests with two king beds, two queen beds, one sleeper sofa and three bathrooms. Beverly's Bearadise is the perfect retreat for enjoying picturesque views of the beautiful Smoky Mountains while relaxing in a rocking chair. T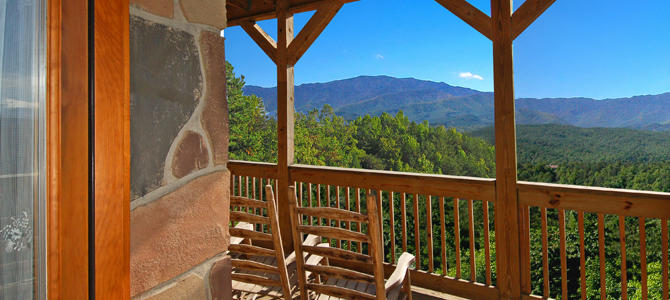 $2,723 - $5,068
/ per week
Mountain View 1306 is a luxurious three-bedroom condo in Mountain View. This beautiful unit is perfect for families or groups of friends looking to enjoy a Smoky Mountain vacation. Mountain View 1306 sleeps eight guests with two king beds, one full bed, one full sleeper sofa and two bathrooms. This bright and airy condo provides plenty of space to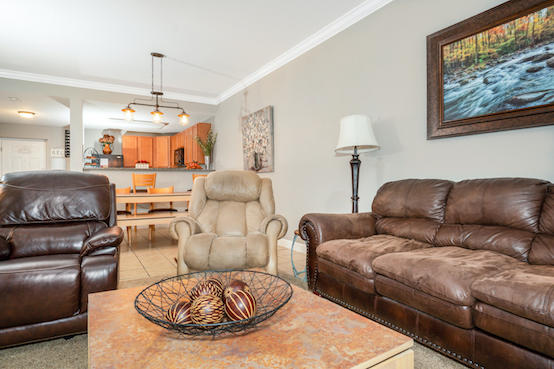 $1,050 - $2,275
/ per week
The cabin's interior is a blend of mountain charm and modern sophistication, with large windows on both ends bringing in plenty of natural light. The living room features a stacked stone fireplace, comfortable chairs, and a wide screen TV mounted above the mantel with internet. The well equipped kitchen takes the stress out of driving to dinner, w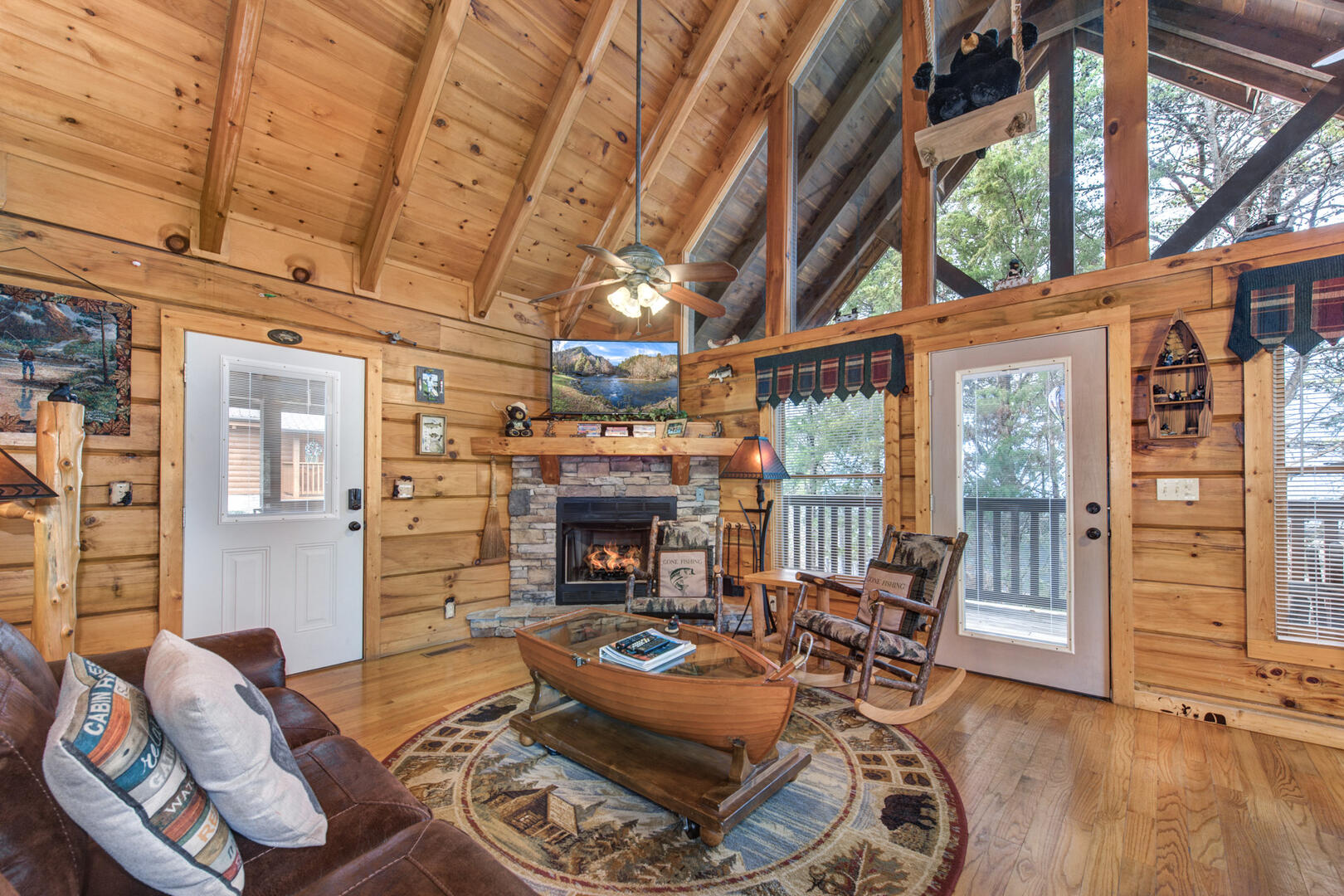 $1,050 - $3,108
/ per week
Misty Sunrise is a cozy one-bedroom cabin in Starr Crest Resort. This quaint log home is the perfect getaway for honeymoons, anniversaries or much-needed couple's weekends of any kind. Misty Sunrise sleeps four guests with one king bed, queen sofa sleeper and one bath. Guests will feel right at home in front of the stone fireplace as they settle in
Firefly is a spacious, yet cozy, four-bedroom cabin in Bear Cove Falls. This beautiful vacation home is perfect for families and groups of friends looking to enjoy the beauty of the Smokies. Firefly sleeps 12 guests with four king beds, queen bunk bed and five bathrooms. The cabin's three decks provide plenty of space to take in the sights and soun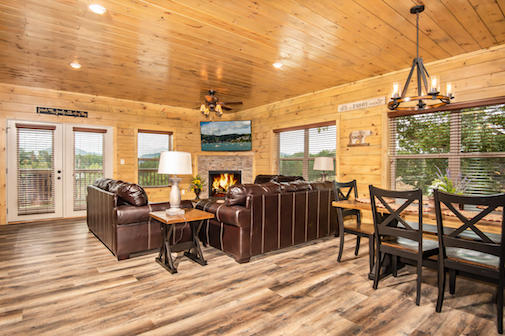 $2,513 - $4,858
/ per week
Sweet Slice of Heaven is a warm and inviting two-bedroom cabin located in Starr Crest Resort. This charming home is perfect for a romantic getaway or family vacation. Sweet Slice of Heaven sleeps eight guests with one king bed, one full over king bunk bed, two daybeds, and two bathrooms. The decor of this home gives it a light and airy feel with th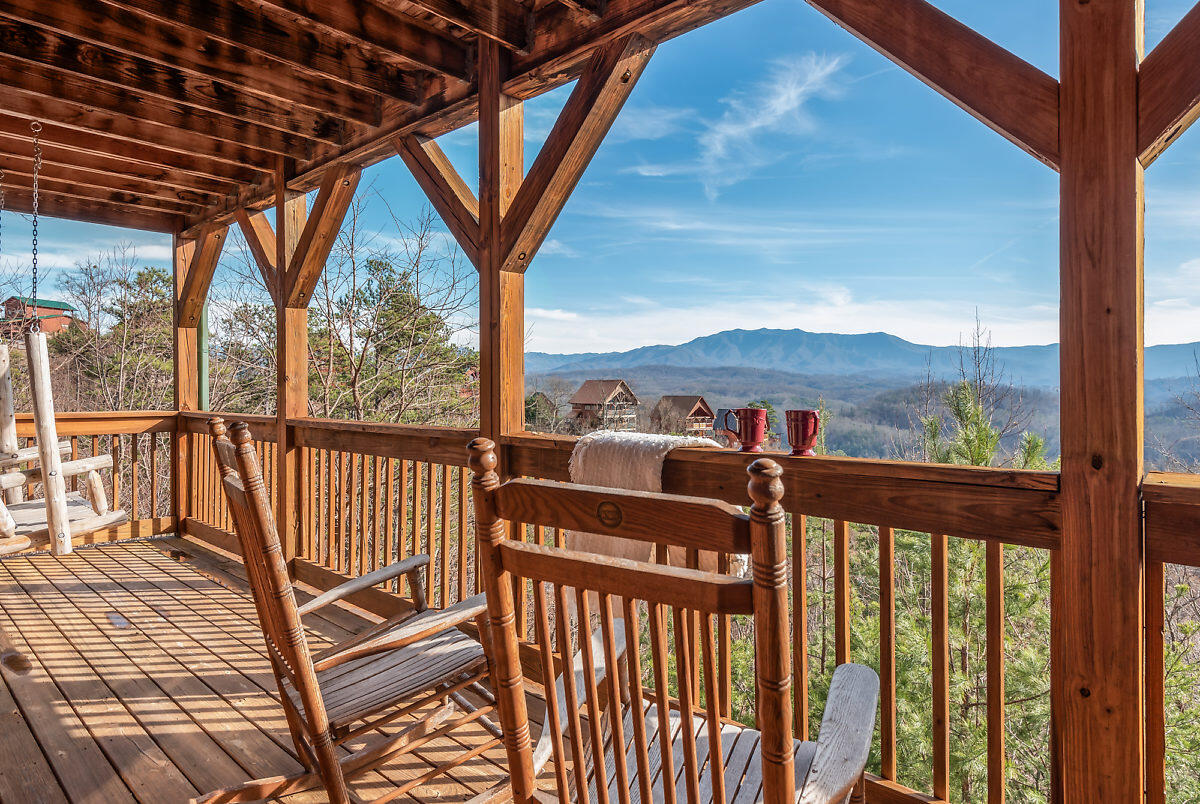 $1,533 - $3,598
/ per week
---