1 Bedroom Cabin Rentals
Looking for a perfect one-bedroom cabin vacation rental in Pigeon Forge or Williamsburg, TN? Bear Cove Cabins offer a variety of one-bedroom cabin rentals in the Smoky Mountains that's perfect for your next mountain vacation.
Our Pigeon Forge one bedroom cabin rentals are equipped with private decks that provide stunning views of the Smoky Mountains. Additionally, some of our rental options come with grills, fireplaces, and other entertainment options for guests. Relax in the hot tub or lounge outdoors and enjoy the fresh mountain air with your loved one.
Bear Cove Cabins are located close to popular attractions like Dollywood and Smoky Mountain hiking trails, making it a perfect destination for adventure seekers. Whether you're looking for a romantic getaway or an exciting outdoor adventure, we've got you covered. Book your one-bedroom cabin rental in Pigeon Forge today and make unforgettable memories in the heart of the Smoky Mountains!
---
The cabin's interior is a blend of mountain charm and modern sophistication, with large windows on both ends bringing in plenty of natural light. The living room features a stacked stone fireplace, comfortable chairs, and a wide screen TV mounted above the mantel with internet. The well equipped kitchen takes the stress out of driving to dinner, w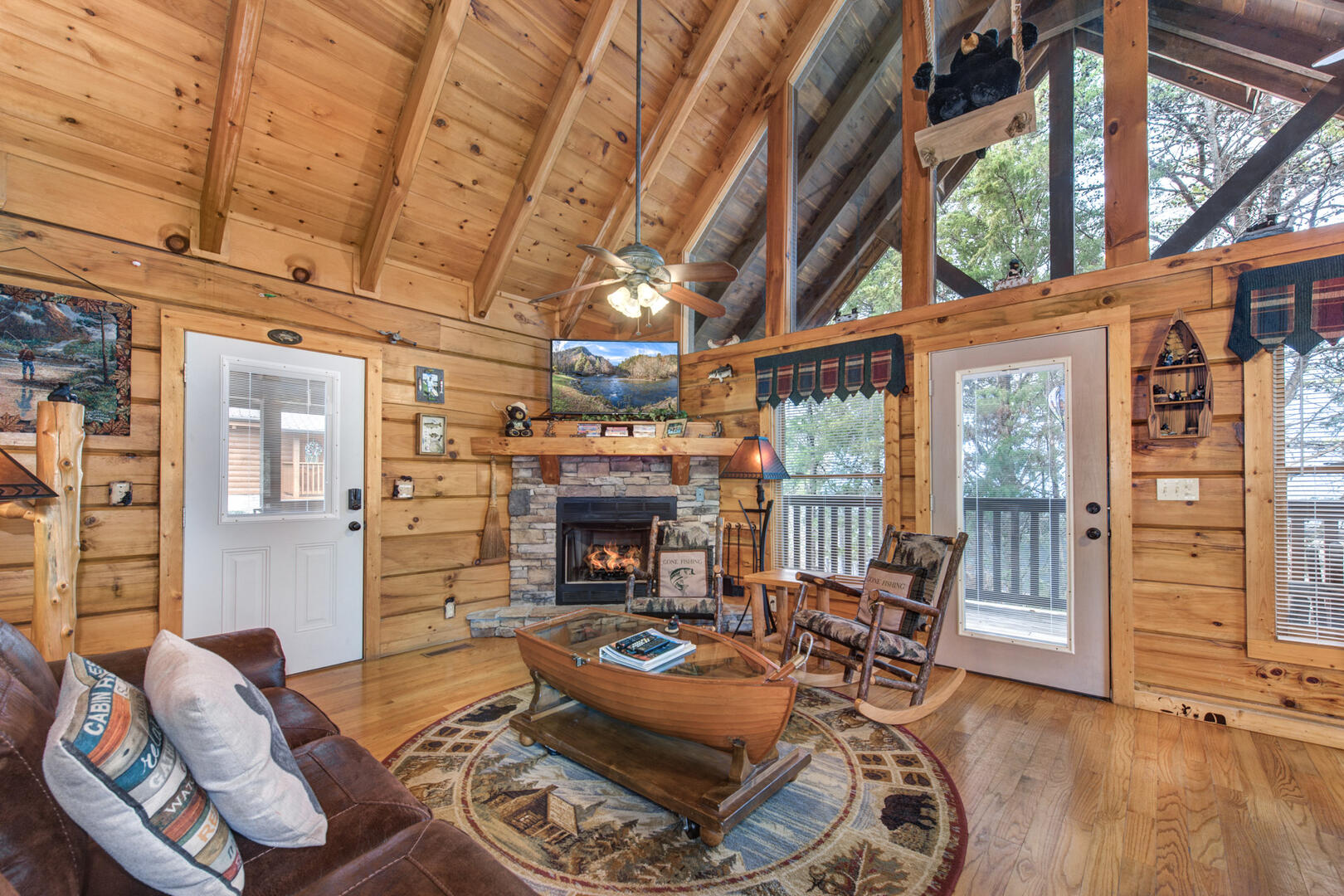 $1,050 - $3,108
/ per week
This cozy one-bedroom, two-bath cabin offers rest and relaxation for up to eight guests. Top of the World boasts one king-sized bed, queen over queen trundle, and one queen-sized sleeper sofa. The living area features comfortable seating options located around the cabin's fireplace, a large flat screen TV, and cinematic views of the Smoky Mountains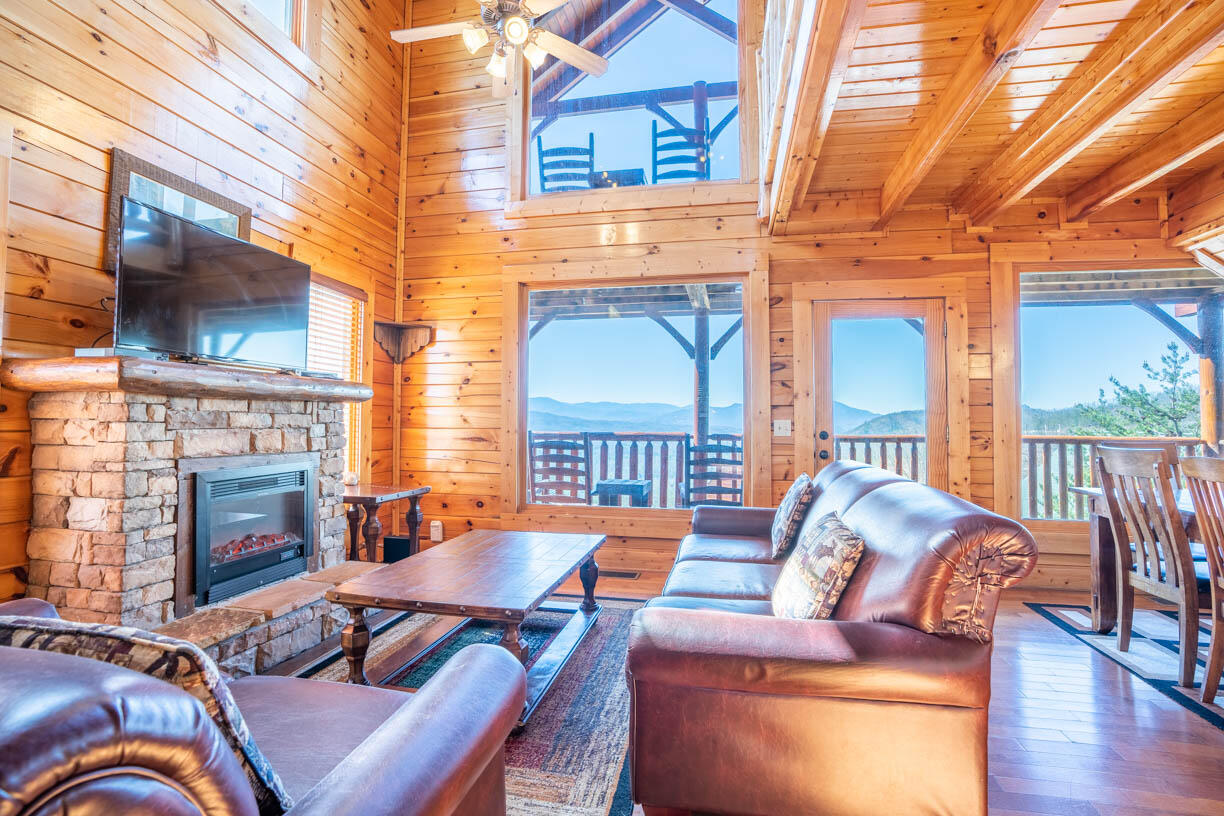 $1,015 - $2,968
/ per week
Honey Bear Den is a warm and cozy one-bedroom cabin in Hidden Springs Resort. This quaint cabin is the perfect getaway for a honeymoon, anniversary or just a cozy couple's weekend. Honey Bear Den sleeps four guests with one king bed, queen sleeper sofa and one bathroom. The living room provides a cozy night in to watch movies around the beautiful s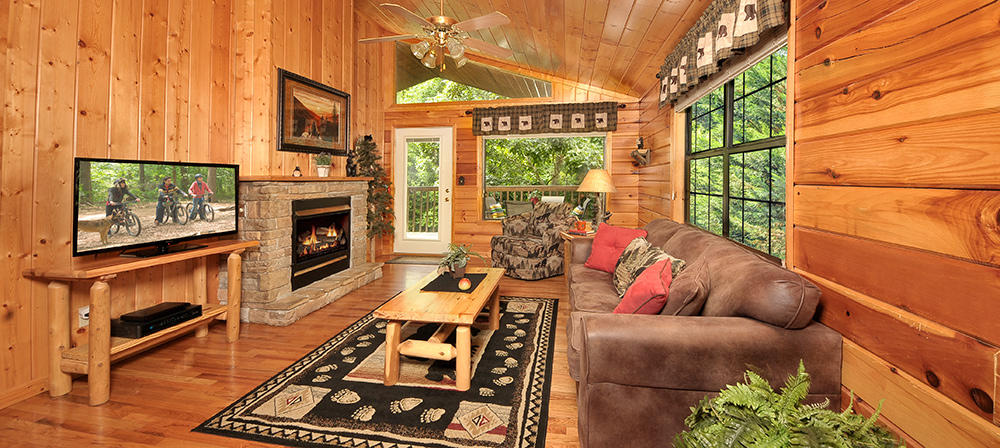 Ever imagined living in a treehouse as a kid? Well, here's your chance to go 'out on a limb' and stay a few nights in one as an adult! With a 1,000 sq ft of space and unique charm, this cabin is sure to impress! This uniquely designed cabin offers our guests all the luxuries of a modern cabin but in your very own adult version of a treehouse! Out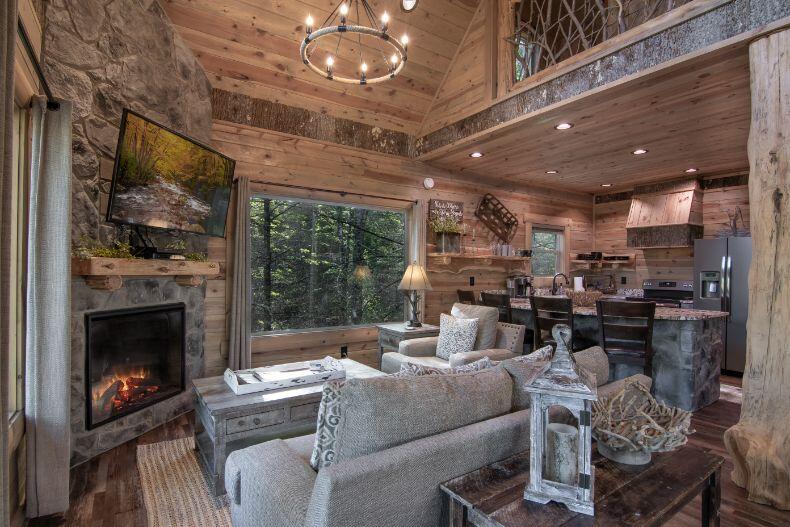 $1,533 - $3,598
/ per week
All American Charm is beautiful one-bedroom cabin located in Arrowhead Resort in Pigeon Forge. This delightful retreat is the perfect vacation spot for guests of all ages. All American Charm sleeps four guests with one king bed, and one queen sleeper sofa. This cabin has a fully furnished kitchen that is perfect for creating delicious meals to enj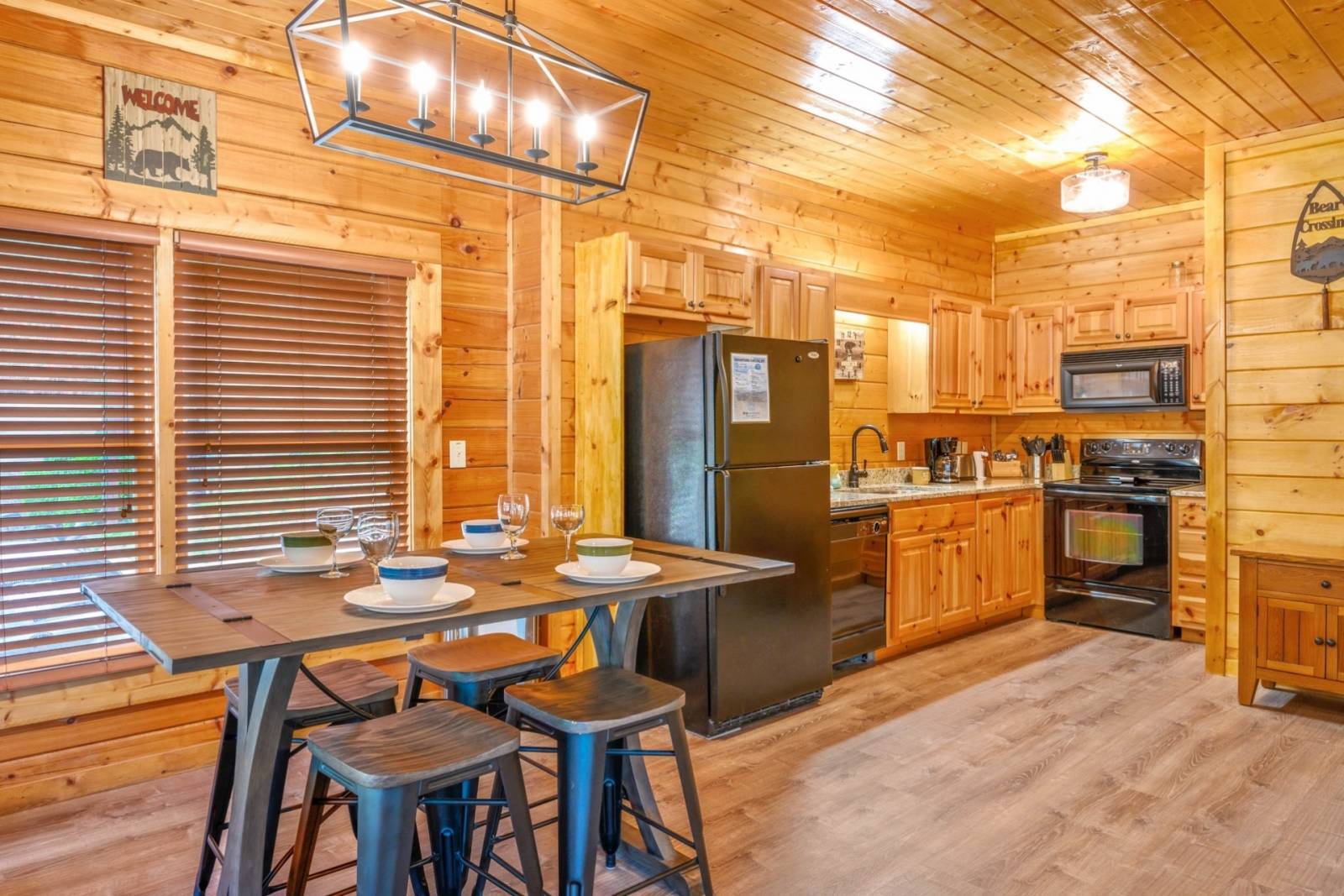 $1,050 - $3,108
/ per week
Misty Sunrise is a cozy one-bedroom cabin in Starr Crest Resort. This quaint log home is the perfect getaway for honeymoons, anniversaries or much-needed couple's weekends of any kind. Misty Sunrise sleeps four guests with one king bed, queen sofa sleeper and one bath. Guests will feel right at home in front of the stone fireplace as they settle in
Heart 2 Heart is a beautifully-decorated one-bedroom cabin located in Starr Crest Resort. This cozy log cabin is the perfect retreat for a couple or small family. Heart 2 Heart sleeps eight guests with two king beds, two queen sleeper sofas and two bathrooms. This luxurious cabin brings the beauty of the Smokies indoors with stunning hardwood floor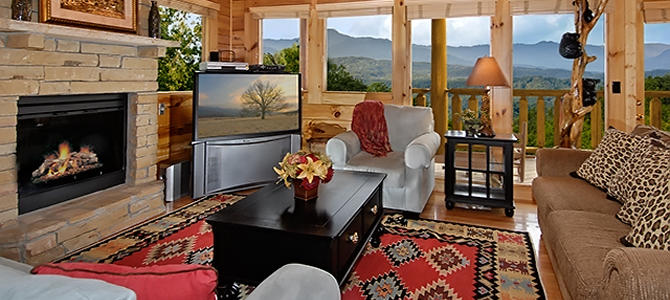 $1,120 - $3,318
/ per week
Mountain View 5605 is a one-bedroom, one-bath condo located at the Mountain View Resort. This condo will sleep six guests with a king-sized bed, queen-sized sofa sleeper and a set of twin bunk beds - perfect for a weekend family getaway! As its name implies, this resort-style retreat is surrounded by the breathtaking scenery of the Great Smoky Moun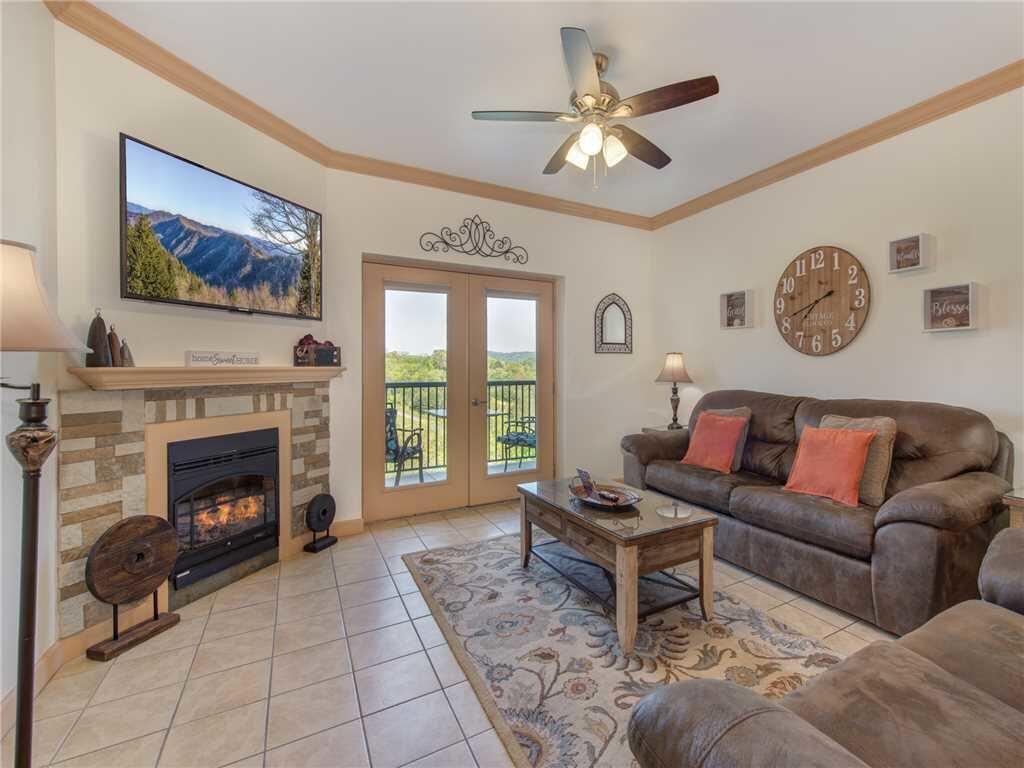 Tequila Sunrise is a luxurious one-bedroom cabin in the Walker Trail area. The beautiful log home is the perfect retreat for guests looking for spectacular Smoky Mountain views. Tequila Sunrise sleeps six guests with two king beds, one queen sleeper sofa and two bathrooms. Guests will enjoy privacy during their stay with the nearest cabin being one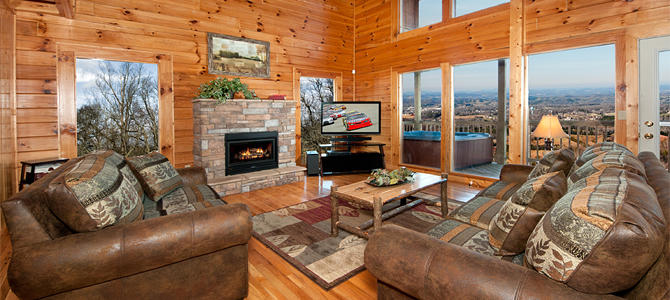 $1,050 - $3,108
/ per week
Moonlight Ridge is a charming one-bedroom cabin in Starr Crest Resort. This beautiful log home is the perfect romantic getaway or retreat for a small family. Moonlight Ridge sleeps six guests with two king beds, queen sleeper sofa and two bathrooms. The living room provides a cozy space to relax at the end of the day with a beautiful stone firepla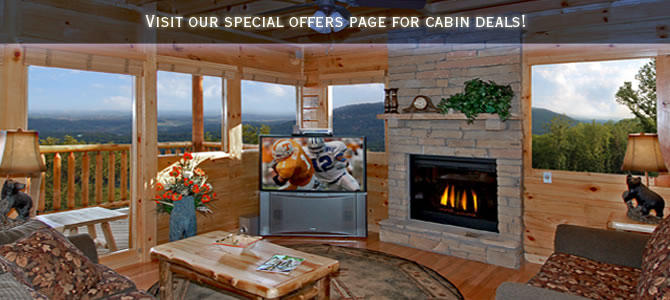 $1,120 - $3,318
/ per week
Ardennes Point is a luxurious one-bedroom cabin in Starr Crest Resort. This spectacular cabin will make guests feel right at home with two beautiful fireplaces and a bright and airy feel. Ardennes Point sleeps seven guests with two king beds, one queen sleeper sofa, one twin sleeper sofa and two full bathrooms. Guests can enjoy breathtaking views o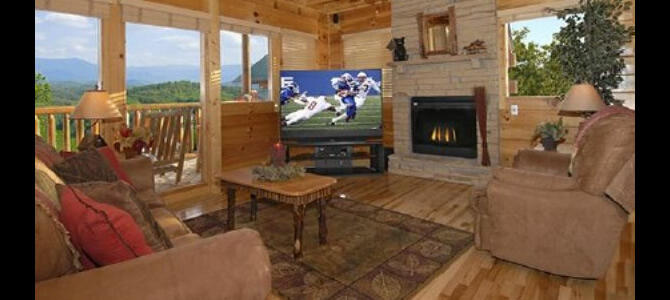 $1,120 - $3,318
/ per week
Over the Moon is a stunning one-bedroom cabin nestled in Starr Crest Resort. This gorgeous log home showcases some of the most breathtaking views in the Smoky Mountains. Over the Moon sleeps six guests with two king beds, one queen sleeper sofa and two bathrooms. The living room is the heart of the cabin with a beautiful stone fireplace, large flat
$1,120 - $3,318
/ per week
---